Innovation Title:
Brick for Power Generation.


Name & Age of Inventors:
Aamenah Saeed (12)
Bilal S. Ali Shah (11)
Mehreen Afreen Syed (13)
Omar Aamir Memon (11)
Rania Azeez (13)
Yahya Siddiqui (10)
Zain Khan (12)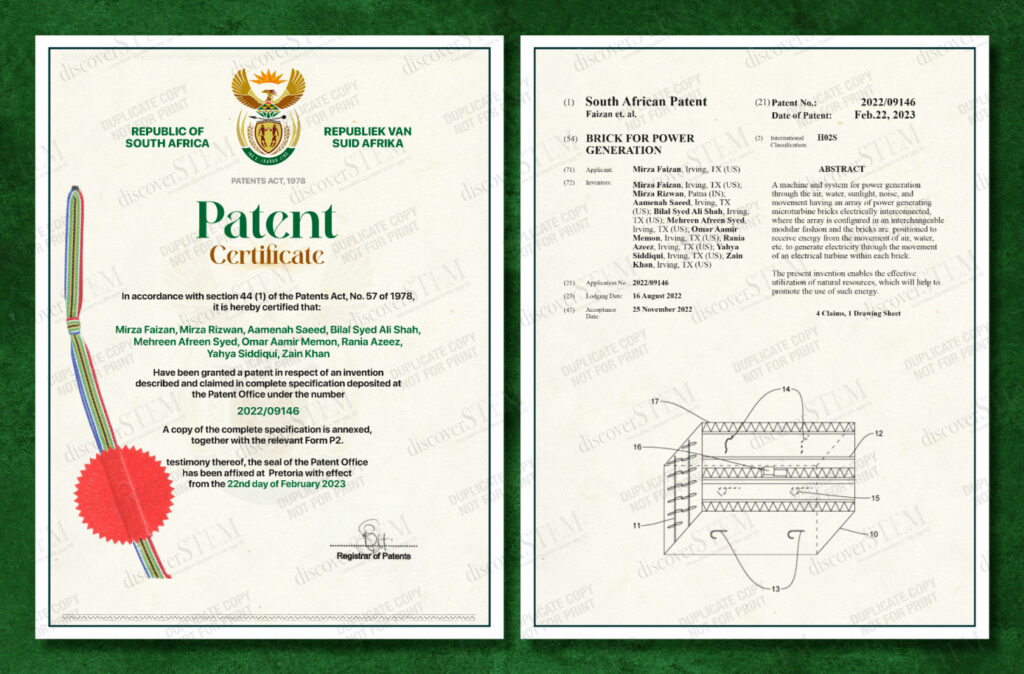 About the Innovation:

A machine and system for power generation through the air, water, sunlight, noise, and movement having an array of power generating microturbine bricks electrically interconnected, where the array is configured in an interchangeable modular fashion and the bricks are positioned to receive energy from the movement of air, water, etc. to generate electricity through the movement of an electrical turbine within each brick.
The present invention enables the effective utilization of natural resources, which will help to promote the use of such energy.

Patent Grant Date:
25th November 2022
South African Patent Publication Number:
2022/09146
Awards & Recognition:
Winner of 2nd prize at Texas Regional Future City Competition – 2019
Special Prize at Texas Regional Future City Competition – 2019