Innovation Title:
A package delivery box.
Name & Age of Inventors:
Hisham Ahmad (12)
Isha Agrawal (12)
Carcyn Coleman (14)
Aiza Gaffar (14)
Daniel Syed (11)
Sooryavanshi Narayanan (13)
Anika Prasad (7)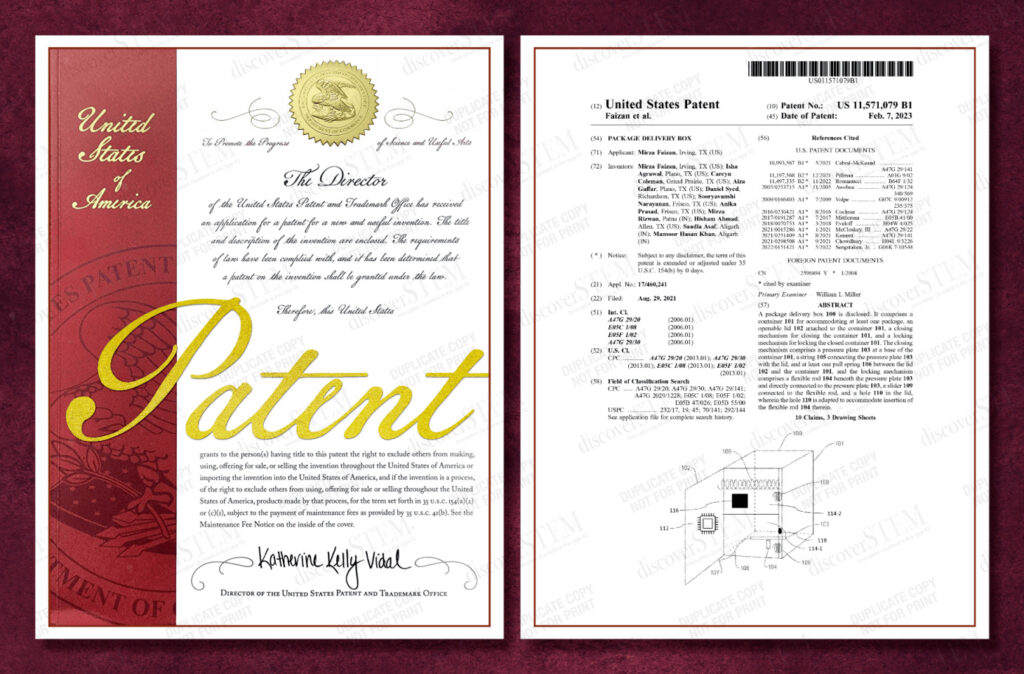 About the Innovation:
A package delivery box is disclosed. It comprises a container for accommodating at least one package, an openable lid attached to the container, a closing mechanism for closing the container, and a locking mechanism for locking the closed container. The closing mechanism comprises a pressure plate at a base of the container, a string connecting the pressure plate with the lid, and at least one pull spring between the lid and the container, and the locking mechanism comprises a flexible rod beneath the pressure plate and directly connected to the pressure plate, a slider connected to the flexible rod, and a hole in the lid, wherein the hole is adapted to accommodate insertion of the flexible rod therein.
US Patent Grant Date:
7th February 2023
United States Patent Publication Number:
US20230065017A1